Dear Sirs,
<![if !supportEmptyParas]> <![endif]>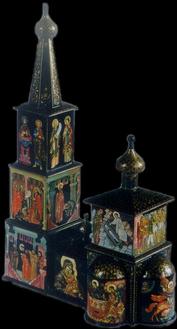 Our web-site is rather new (although the Co-operative of painters itself has a pretty long for the Russian new economy standards history of more then ten years) and it was
developed for quit different people: art lovers, avid collectors, all those who interested
in a Russian culture, gallery's owners and so on. But our main mission is to provide the opportunity of getting the right information and buying the Russian lacquered items with guaranteed authenticity directly from the authors.
We do receive not only the commercial orders, but also messages with questions about the complicated techniques, painters bio's, boxes appraisals and etc. We do our very best trying to answer everybody as fast as we could (you are also welcome to:.
Fast courier service we use for the delivery (EMS Guarant Post), works pretty good. We use from time to time normal Russian post for sending certificates, it could be a bit slow, but generally it works as well. International wire transferring might be not the most convenient way (and we try to work on that matter) for our customers, but didn't bring any problems for the clients. So, we are open for all those who have the eye for the beauty.
Here are some phrases from the site' post (as was written):
<![if !supportEmptyParas]> <![endif]>
<![if !supportLists]>- <![endif]>"You have a beautiful website. I enjoyed reading about the villages and the techniques. I visited the villages in 1998 and met many wonderful people. I was
looking specifically at two boxes and wonder if they are still for sale… If you do
come to Chicago, I would like to be notified…" Nancy P., IL, USA.
<![if !supportEmptyParas]> <![endif]>
<![if !supportLists]>- <![endif]>"Collecting Russian lacquer art is my main hobby…all Russian lacquer art is beautiful… I consider Palekh art to be the finest of all. One indication of this: Palekh art is "faked" far more often than art from any of the other villages… Looked at the Fedoskino, Kholui, and Mstera boxes on your website. Although I don't collect these, some of them look like they would make nice gifts…I would like to visit Palekh and Palekh museum…There are a lot of nice things on the website. Thank you for your patience, efforts and expertise…" D. C., USA
<![if !supportEmptyParas]> <![endif]>
<![if !supportLists]>- <![endif]>"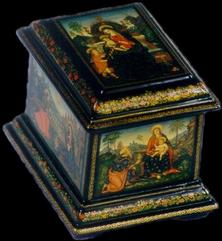 I am trying to find information about the author and the current value of that box (not that I want to sell it: I still love it)…Thank you…" Brigitte C., Quebec City
<![if !supportEmptyParas]> <![endif]>
<![if !supportLists]>- <![endif]>"I am very interested in purchasing the Fedoskino box…by G.Larishev. I just love it…I would like some information…Thank you very much for your time and consideration." Annika B.
<![if !supportEmptyParas]> <![endif]>
<![if !supportLists]>- <![endif]>"I visit the Palekh website… I am very interested in what you can offer, because I like to buy some more of these fine boxes…This year me and my wife like to visit Moscow, my wife did before, and also the centers of the Russian Lacquered Miniature Art in the Ivanovo region. We prefer to travel individual. Do you have any suggestions?…" J. K., Netherlands
<![if !supportEmptyParas]> <![endif]>
<![if !supportLists]>- <![endif]>"Thank you very much…The package was well received and I specifically liked that each item was very carefully packed…" R.G, USA
<![if !supportEmptyParas]> <![endif]>
<![if !supportLists]>- <![endif]>"Îðãêîìèòåò Ïåðâîãî Âñåðîññèéñêîãî êîíêóðñà"Òðóäîâàÿ Ñëàâà Ðîññèè" ðàññìîòðèò Âàøè ïðåäëîæåíèÿ ïî íàãðàäíîé àòðèáóòèêå.  Äëÿ íàãðàæäåíèÿ … ëàóðåàòîâ íàøåãî êîíêóðñà ìû ãîòîâû ïðèîáðåñòè ïðîäóêöèþ…ñàìîãî ðàçíîãî àññîðòèìåíòà – ñóâåíèðû, ïðèçû, ïîäàðêè è ïð. …Ñïàñèáî. Îòâåòñòâåííûé Ñåêðåòàðü êîíêóðñà Ãîðþíîâ Î.Â. " Moscow, Russia